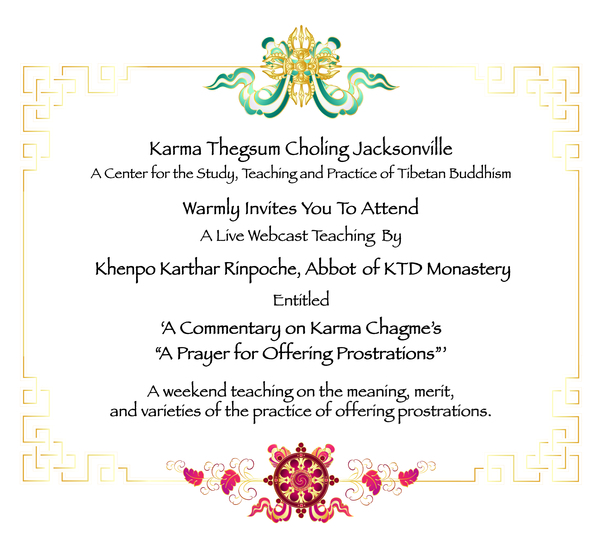 We are pleased to announce that the next KTC webcast with Khenpo Karthar Rinpoche will be Karma Chagme's "Prayer for Offering Prostrations." Please join us in receiving this precious teaching from our beloved teacher. Prostrations are the first foundation of the Preliminary Practices. Khenpo Rinpoche will teach the meaning and benefits of prostration practice, categories of prostrations, how to practice prostrations, and the   story behind Karma Chagme's "Prayer for Offering Prostrations."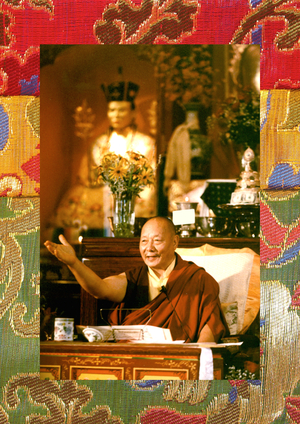 Born in eastern Tibet in 1924, Khenpo Karthar Rinpoche is one of the great masters of the Karma Kagyu lineage and Tibetan Buddhism. Khenpo Rinpoche, who received most of his training and education in Tibet before the Chinese invasion, is highly accomplished in meditation, philosophy, and all monastic arts. As abbot of Karma Triyana Dharmachakra Monastery (KTD) in Woodstock, New York; spiritual guide of thirty-five Karma Thegsum Choling (KTC) affiliate centers; and retreat master at the Karme Ling Retreat Center in Delhi, New York; Rinpoche has touched the hearts and minds of many thousands of students.
Live Webcast Teaching Schedule:
Friday – February 10th
Evening: 7:00-8:30 p.m. EST
Saturday – February 11th
Morning: 10:30 a.m.-noon EST
Potluck Luncheon
Afternoon: 3:30 p.m.-5:00 p.m. EST
Sunday – February 12th
Morning: 10:30 a.m.-noon EST
Afternoon: 2:30 p.m.-4:00 p.m. EST
There is no cost to attend this webcast but monetary offerings are greatly appreciated as they allow us to meet the costs of keeping our center open and to continue bringing the authentic dharma to the Jacksonville area.
As noted on the schedule, there will be a vegetarian potluck between the two Saturday sessions. Attendees are welcome to bring a favorite dish to share.  (We will also be offering the 'work yoga' of house cleaning our center after lunch and welcome any donation in this regard as well.)