KTC Jax Visit Thrangu Vajra Master Lopön Tobden Public Talk, Teaching, Refuge and Green Tara Empowerment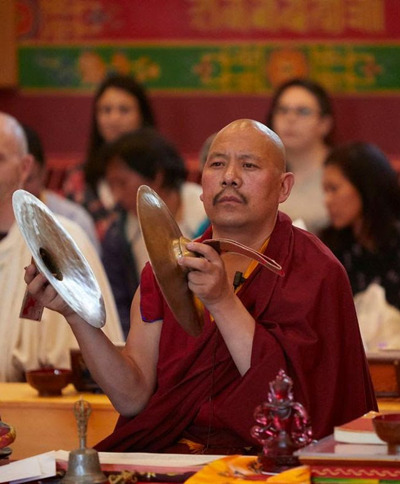 Karma Thegsum Choling Jacksonville is happy to announce that Vajra Master Lopön Tobden will be visiting us for the first time August 29th-31st. It is an honor to have such an accomplished teacher visit our center as part of his tour of the KTCs. We hope you will join us for this special weekday event. He will be assisted by translator Khenpo Sangye Trinley of KTD Monastery in Woodstock, NY.
PUBLIC TALK:
August 29th, Tuesday Night 7:00-8:30pm Being Fearless In Our Meditation Practice
The evening topic will cover Meditation, Buddhist Refuge and working through difficult emotions.
$10 suggested donation

TEACHING: August 30th, Wednesday Night 7:00-9:00pm
Green Tara Sadhana – 21 Praises to Tara
The topic will be the 21 Praises to Tara, recited during the Green Tara Sadhana. This practice is done the first Saturday of the month at KTC Jax and helps remove obstacles within our lives and practice.
Prerequisite: It is preferred for the practitioner have Refuge or plan on taking Refuge Thursday if attending this teaching.
$25 suggested donation ($20 for members)
Refuge and Green Tara Empowerment: August 31st, Thursday Night 7:00-8:30pm

Lama Thobden will bestow the Vow of Refuge to those wishing to start the Buddhist path, followed by the empowerment of the Green Tara. This is considered a powerful blessing for the removal of obstacles and clearing of obscurations in our minds and in our lives. Those who would like to receive Refuge for the first time are asked to arrive at 6:30pm for brief instruction.
$25 suggested donation ($20 for members)
PLEASE NOTE: Refuge and Empowerment will only be for in person attendance.
No one will ever be turned away from teachings for inability to make a donation. Volunteer scholarship opportunities are also available.
This is an extraordinary opportunity to meet and receive teachings from a meditation master who was born and trained in Tibet and blessed by many years of dharma practice.
Participants can register in person at KTC Jacksonville or with the following link:
Please consider assisting as a Meal Sponsor $50 or Teaching Sponsor $100 and help us continue to bring great teachers to North Florida.
ABOUT Lopön Tobden: Vajra Master (Lopön) Lama Tobden from Qinghai Thrangu monastery was born in 1975 at Punang near Princess Wencheng Temple in the north of Jiegu, Ga District.
He began his dharma studies at the age of eight, and at the age of 16 he received his initial monastic vows at Thrangu Tashi Monastery. After completing the traditional Karma Kagyu three-year retreat, he served as monastery chanting master (Umdze). He received his full monastic ordination from Thrangu Rinpoche, and attended Thrangu Monastic Buddhist College, completing his studies after three years. Afterward he made pilgrimages to many holy places and received many teachings from distinguished Buddhist masters.

In 2007, Ven. Thrangu Rinpoche and Lodro Nyima Rinpoche jointly appointed Lama Tobden as the Vajra Master (Lopön) of Thrangu monastery, and he has held this position ever since.
In 2016, Lama Tobden came to KTD with Lodro Nyima Rinpoche to help KTD start the practice of the Thrangu Tsedrup Tabshé Khajor (Longevity Practice: Union of Skillful Means and Insight. In 2017 he returned to assist with the consecration of KTD's Eight Stupas.
In July of 2019, at the invitation of Khenpo Karthar Rinpoche, Lama Tobden visited KTD to give the reading transmission of Karma Chakme Rinpoche's Complete Works for two months. Shortly after the completion of this transmission Khenpo Karthar Rinpoche passed into parinirvana, and Lama Tobden remained to organize and lead the 49 days of prayers and ceremonies that accompanied Khenpo Rinpoche's cremation.
Khenpo Karthar Rinpoche has praised Lama Tobden in his public talks, calling him a truly qualified vajra master of the lineage. With his rich and profound knowledge, his devotion and tireless effort in the service of Dharma and his many naturally displayed qualities, Lama Tobden has touched Khenpo Rinpoche's students' hearts and inspired their admiration.
If you have further questions please e-mail info@ktcjax.org
---
Karma Yoga Volunteer Opportunities
Sunday Volunteer hours:
August 20th 7a-10am
August 27th 10am-12pm
August 20th we plan on doing yard work if in-climate weather we will work inside. Please coordinate with Jacque when you arrive.